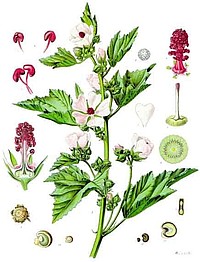 Abdominal Typhus

A type of typhus fever characterized by bluish spots appearing on the abdomen a few days after the disease is contracted.

Ablepsia / Ablepsy

Blindness.

Abluent

A substance which thins, purifies, or sweetens the blood.

Ablution

Washing the body externally or internally with diluting fluids.

Abortus Fever

See Brucellosis.

Abracadabra

A cabalistic word, used as a charm, and believed to have the power to cure illness and disease when written in a triangular arrangement and worn around the neck.

Abscess

A collection of purulent matter or pockets of pus, usually fatal, sometimes caused by amebic dysentery.

Abstracted Medical Record

A record prepared for soldiers treated at medical facilities in posts, camps, and in the field, containing name, rank, unit, reason for treatment, and treatment time period.

Aches

Convulsions.

Achor

The scald head, a disease forming scaly eruptions, supposed to be critical evacuation of acrimonious humors; a species of herpes.

Acme

The period of full growth or mature age, often used in medical records to describe the maturity of a person.

Aconite

A medicine made from the dried root of the monkshood used to reduce fever, as a sedative, and as a painkiller.

Acute

Means a condition of recent origin whereas chronic means of long standing.

Addison's Disease

Anaemic condition caused by kidney disease.

African Consumption

Consumption (tuberculosis) suffered by a Negro, usually a slave.

Aglutition

Inability to swallow, frequently found on death certificates.

Ague

Originally the feverish stage, but afterwards more usually the cold or shivering stage of an acute or violent fever; a malarial fever.

Ague-Cake

A hard tumor or swelling on the left side of the abdomen, lower than the false rib, resulting from enlargement of the spleen or liver, and supposed to be the effect of intermitting fevers.

Ague Tree

Sassafras, a tree effective in reducing fevers.

Aksis

Access, an intense feeling of fever or ague.

Aleberry

A beverage used in England in the 1800's of ale boiled with spice and sugar and bits of bread, sometimes used for invalids.

Althea, Syrup of

Althaea officinalis is Marsh Mallow, used as an anti-inflammatory.

Amentia

Feeble mindedness; a temporary, confused state of insanity.

American Plague

See Yellow Fever.

Anaemia / Anemia

Lack of sufficient red blood cells, sometimes caused by iron deficiency and worsened by the medical practice of bleeding patients for virtually every condition. Also known as green fever, green sickness. See also chlorosis.

Anaplerotic

A medicine which promotes the healing process, and helps renew flesh or wasted parts – often found in medical records.

Anascara

A form of dropsy where there is swelling just beneath the skin which produces a very puffed appearance of the flesh over a large surface of the body.

Ancome

An ulcerous swelling, a boil.

Aneurism / Aneurysm

A ballooning of an artery caused by a weakened artery wall.

Angina Pectoris

A dangerous disease, with paroxysms characterized by sudden and severe pain in the lower chest, with a feeling of suffocation.

Angina

The general name of the diseases called sore throat, as quinsy, scarlet fever, croup, mumps, etc.

Anodyne

A drug which will dull pain; analgesic.

Anthelmintic

Something used to expel or destroy intestinal worms.

Antifebrile

A medicine able to abate or cure fever.

Antiparalytic

A medicine used to help palsy victims.

Antiperiodic

A medicine which prevented the periodic return of certain diseases, such as malaria.

Antipestilential

A substance that will counteract or stop contagion or infection.

Antiphlogistic

A remedy used for inflammations.

Antiscorbutic

A remedy used to fight scurvy.

Antisialogogue

A medicine used to decrease a heavy flow of saliva.

Antispasmodic

A medicine used to reduce muscle cramps or spasms.

Antisyphilitic

A medicine used to cure syphilis.

Aphonia

Laryngitis

Aphtha / Aphthae

The infantile disease thrush.

Aphthous Fever

See Thrush.

Aphthous Stomatitis

Mouth ulcer. See also Canker.

Apoplexy

Hemorrhage of a blood vessel in the brain; a sudden loss of sensation; paralysis due to stroke.

Ascites

A large collection of fluid in the abdominal cavity; dropsy of the abdomen.

Asfetidia

A short perennial herb that produces a resinous gum used as an antispasmodic and flavoring.

Asthenia

See Debility.

Asylum

A place of refuge for the care of orphans and, more usually, for the confinement of the insane.

Atrophy

Wasting.

Axes

The ague, generally fits or attacks.